The Care Inspectorate's Care about Physical Activity (CAPA) programme ran from April 2017 to May 2020.
CAPA used an improvement approach to help care providers build physical activity and more movement into the daily lives of those they support. Sometimes within hospitals and care settings and even in our own homes, older people can get out of the habit of moving. This has negative consequences. Prolonged sitting leads to poor health such as frailty, falls and bone health. It also results in a poorer quality of life, depression and loneliness.
Moving more often during the day is of crucial importance to older people's health and wellbeing. Increasing strength and balance in particular also helps older people to remain independent for longer, have a better quality of life and contributes to reduced falls.
A report, including detail, stories and information from the programme, can be accessed here.
Managers and staff who work with older people from:
*Care at Home *Day Care *Care Homes
*Sheltered Housing *Very sheltered housing *Respite care
across 19 Health & Social Care Partnership areas were involved with the CAPA programme (see map below)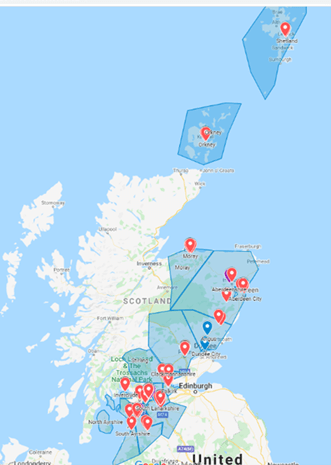 Care professionals of all levels, local inspectors, designated partnership leads, integration leads, community and leisure groups and others came together at a variety of learning events (see red tags on the map). Those present were supported to understand how movement contributes to positive health and wellbeing.
Participants were supported to translate this understanding into developing their own movement ideas in their own settings with the people they knew well. Principles of Community Connection, Organisational Culture and Physical Activity Participation were examined from the viewpoint of each service.
For example, how could residents in a care home connect with others in their community in an area of interest.
Some services used an established battery of physical and psychological tests/ questionnaires to track improvement and to contribute this data to the overall evaluation of the programme.
The CAPA programme complemented the work of adult service inspectors who support services to provide high quality care and support that is right for each person as part of their scrutiny and improvement role.
Independent research commissioned by the Care Inspectorate investigated psychological and physiological impacts of moving more often. The first phase evaluation found that older people involved in the programme have significantly improved their hand grip strength, their low leg strength, gradually increased their flexibility which improved mobility and levels of independence and significantly reduced their likelihood of falls as a result of moving more. People also experienced greater life satisfaction and felt less anxious.
Case studies
Click on the selection of short films below showing what happened when care professionals found ways to promote more movement for those they support. These films can be used in team meetings or viewed by staff who are interested in finding new ideas to improve health and wellbeing.
Margaret's story (Care at Home)
Jacqui, a home carer, talks about how promoting movement is not as time consuming as they originally thought and how they are helping people receiving care at home to incorporate moving more into their daily lives
Jean's story (Day Care)
See how day care centre staff supported Jean to get out of her wheelchair. Jean started to walk, became more active, enjoyed increased energy levels and took up hobbies and passions.
Beth's story (Care Home)
Show this short film to spark discussion at team meetings. Listen to how Beth's quality of life improved when care home staff started something small.
Daphne's story (Care Home)
Care Home staff help Daphne incorporate more movement into her day which improves her health and wellbeing. Daphne's son talks about the differences he has seen.
Care...about physical activity resources
We developed many resources together with care professionals and people experiencing care. Here is a selection that you might find useful:
'Make Every Move Count' pocket guide which helps staff understand that movement is about the small, simple things we can add into daily life that make a big difference to people experiencing care.
'Moving More Often' pocket guide. People living in their own homes have found these useful to identify what is important to them, give support to move more often every day, promote independence and the possibility of continuing to live at home.
Information for relatives This short factsheet encourages relatives and friends to support their older relative to move more often for positive health and wellbeing. Some services have found it useful to include this information in care plans, introductory packs or newsletters
My moving more improvement record People experiencing care use this to track their improvement over time. People have found this personal record motivating to use themselves, and a useful way to involve family and friends.
'Care...about physical activity' booklet outlines the original CAPA resource developed for care homes
More information and good practice stories can be found by searching further in the HUB
Go to your area of interest (e.g. Adults & Older People), then e.g. Care Homes for adults.
Under Topics choose 'Type - creative and physical activity ', or 'Resources - case studies' to pull up resources including films that you might find useful.