What is the widget?

The widget is a logo with some coding behind it that can be displayed on any website. Each registered care service has its own widget to connect directly to its own information pages on the Care Inspectorate website.
So, if you are a care service and you want to show your website visitors that you are registered with us, you can download the widget and display it on your website. When your website visitors click on the widget, a new window will open that displays the Care Inspectorate information page for your service. Your own webpage will still be open.
Who can use the widget?
Anyone can use the widget, but they must abide by our terms and conditions, which are at the bottom of this page.
How do I download the widget?
Go to the information page for your service, on this website.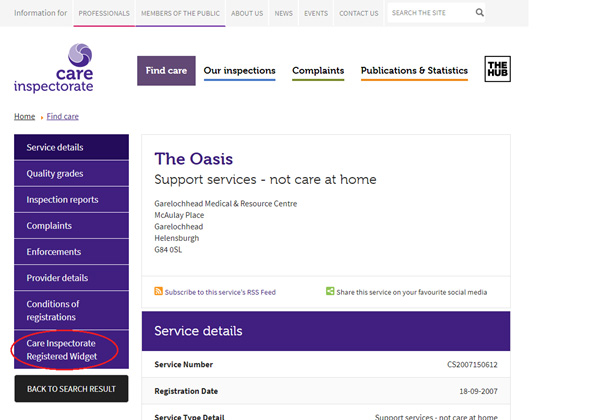 Click on the 'Care Inspectorate Registered Widget' tab in the menu bar on the left.
Follow the instructions. You may need to ask your website administrator, hosting provider or website developer to help you.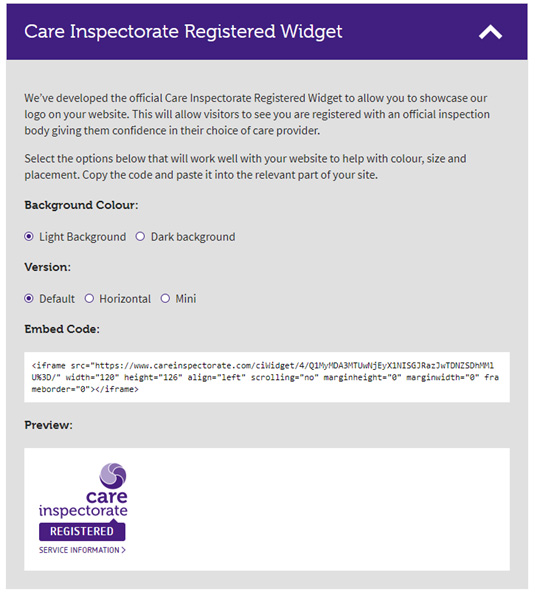 Add the embed code to your website where you want it to appear. For example, in a footer, a sidebar and so on.
The widget code will work on your website straight away.
Troubleshooting
This is a simple and straightforward piece of coding and should not cause issues. If you do have difficulty, first contact your web administrator. If your web administrator is unable to resolve the issue, please email us at This email address is being protected from spambots. You need JavaScript enabled to view it..
Terms and conditions
You can use the widget:
In relation to any care service registered by the Care Inspectorate
You cannot:
use it in any way that would deliberately mislead people
modify it in any way
use it any way that would bring the Care Inspectorate into disrepute
sell it or sublicence it
use it in any way that could intentionally damage or overburden the Care Inspectorate website
put anything around the widget that implies that the Care Inspectorate endorses you or your service.
Other conditions of use
The widget is designed to be used in conjunction with the Care Inspectorate website. Accordingly, use of the widget is also governed by our website's core privacy notice.
Disclaimer of warranties
We make our best efforts to make sure the widget is always available and provides accurate information, but it is provided 'as is', with no warranties.
Limitation of liability
The Care Inspectorate disclaims any responsibility for any harm resulting from your use of the widget.
You understand and agree that you access and/or use the widget at your own discretion and risk, and that you will be solely responsible for any damages to your computer system or loss of data that results from accessing or using the widget.