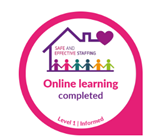 Following the introduction of the Health and Care (Staffing) (Scotland) Act in 2019, we have been funded by Scottish Government to lead on a national quality improvement project with care homes for older people. This includes the responsibility to develop a workforce tool (if this is required) and guidance and resources which support safe and effective staffing in care homes.
The Act brings into legislation requirements and guiding principles for those who commission and deliver health and care, which explicitly states that staffing is to provide safe and high-quality services and to ensure the best health care or care outcomes for people experiencing care.
While this is the main purpose, health and care services should promote an efficient, effective and multidisciplinary approach which is open with and supportive of staff.
It also places a statutory duty on care service providers to ensure that, at all times, suitably qualified and competent individuals are working in such numbers as are appropriate for the health, wellbeing and safety of people using the service, and the provision of high-quality care. Providers are also required to ensure staff are appropriately trained for the work they perform.
Our team
Angella Fulton – Safe Staffing Lead
Lesley Grier – Safe Staffing Adviser
Karen Mack – Safe Staffing Adviser
Helen Honoré – Safe Staffing Adviser
Tracey Foulis – Improvement Support Assistant
Our aim
Working with people who experience care, relatives, representation groups and other key stakeholders, our vision of the programme is to:
'ensure that in care homes in Scotland there are the right people, in the right place, with the right skills at the right time working to ensure people experience the best health and care outcomes.'
Our objectives are to:
use an improvement focus to provide project management to ensure successful outcomes.
lead on the development of a staffing tool and guidance for use in care homes for older people in Scotland, if there is an evidence base for this.
undertake analysis of national information to assess and monitor progress on implementation and identify support requirements.
develop and implement training and development for the sector and lead in the preparation of national educational resources.
provide expert advice to SG, HSCPs, care home providers and commissioners.
We regularly publish programme updates and resources on The Hub.
To find out more information about the programme or you would like to get involved email us at This email address is being protected from spambots. You need JavaScript enabled to view it.