We believe our work is improved by involving people who use services and their carers. We have a number of innovative ways that people can get involved with us and make sure they have the opportunity to influence our work.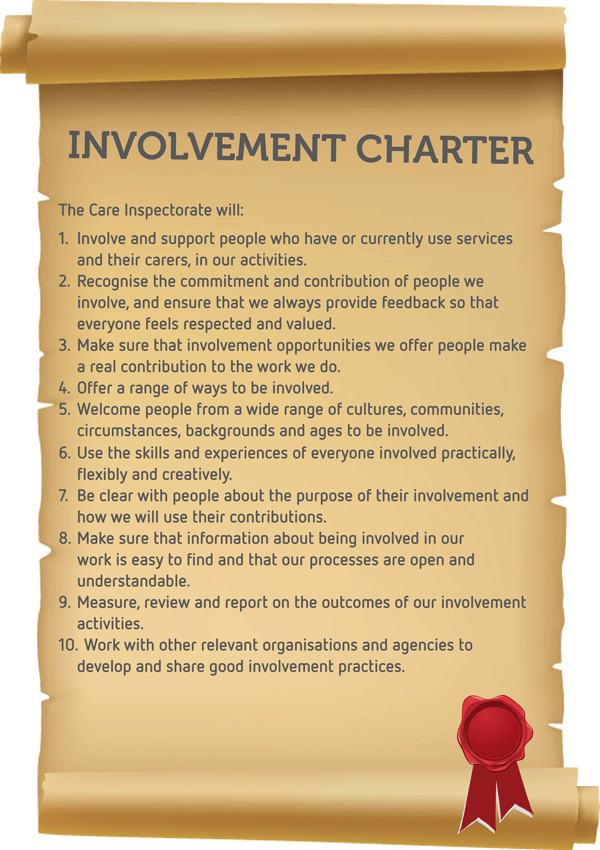 Our Involvement Strategy "Working Together, Improving Together" outlines our commitment to and action plan for involving people who use care services and informal carers in our work.
Download a copy of our strategy below.
> Involvement Strategy "Working Together, Improving Together"
> Involvement Strategy– easy read version
If you have personal experience of using a service or you have cared for someone close who has used a service there are a number of ways you can get involved with us. You do not have to have any qualifications. Your personal experience gives you a unique insight. You can:
Become an inspection volunteer
Our inspection volunteers accompany our inspectors during their inspections and talk to the people who use the service. Their insight of how services are performing is invaluable.
Find out more about our inspection volunteers here.
Join our Involving People Group
Our national group of people who use services, or care for someone who uses services come together to consult and engage in our strategic work. This can be through one off consultation events to collaborative projects producing a particular piece of work.
Become a young inspection volunteer
We are recruiting new Young Inspection Volunteers and we would be delighted to hear from any young people who may be interested in applying.
Young people with experience of care, aged 18-25, can get involved help us with our joint inspections of services for children and young people in different parts of Scotland.
Here is some of our current Young Inspection Volunteers speaking about their role.
To find out more about becoming a Young Inspection Volunteer take a look at our information leaflet here.
If you are interested in applying, you can download an application form below.
Young Inspection Volunteer application form
How we work with our volunteers
We know that people with personal experience of care have unique insights. Working together helps us do our job better and can help services improve. We support our volunteers to work with us, offer training at the start and throughout and paying expenses. If you have additional needs we will do our best to support you with those too.
If you want to get involved with us email This email address is being protected from spambots. You need JavaScript enabled to view it. or call us on 0345 600 9527.