Our commitment to The Promise
Playing our part to deliver on The Promise by 2030 is an important part of our organisation's strategic objectives.
The Promise is the work of change that intends to strengthen Scotland's care system to become more caring and collaborative.
It outlines the belief that, to do this, children's services across Scotland need to transform. This process of transformation must be built on the experiences, views and voices of children and young people at its core.
As we outline in our corporate plan, we want babies, children, young people, and their families to
experience high quality, trauma informed, compassionate care and support
have improved holistic outcomes (enabled by the services which support them)
feel that their voices are heard in decision making about them and that their rights have been protected, respected and realised.
We are aligning our current and future organisational activity with the messages of the Promise in how we regulate in support of babies, children and young people on the edges of care and with care experience. Our existing work in the areas of participation, equalities, United Nations Convention on the Rights of the Child (UNCRC) and corporate parenting is mutual and complementary to this.
In applying national best practice and upholding the Health and Social Care standards we are keeping the Promise.
We are implementing an organisational Promise Development Model across 6 workstreams (3 internally facing and 3 externally facing). This is helping each of us working on behalf of children to reflect and act, individually and collectively on 'What does the Promise mean for me in my role in the Care Inspectorate?' Internally we are applying Promise thinking across our methodology, participation and learning and development activities. Externally we are working to ensure that we can contribute to the evidence and influence needed to enable national transformational change through the lens of our scrutiny and assurance role and in collaboration with other scrutiny bodies.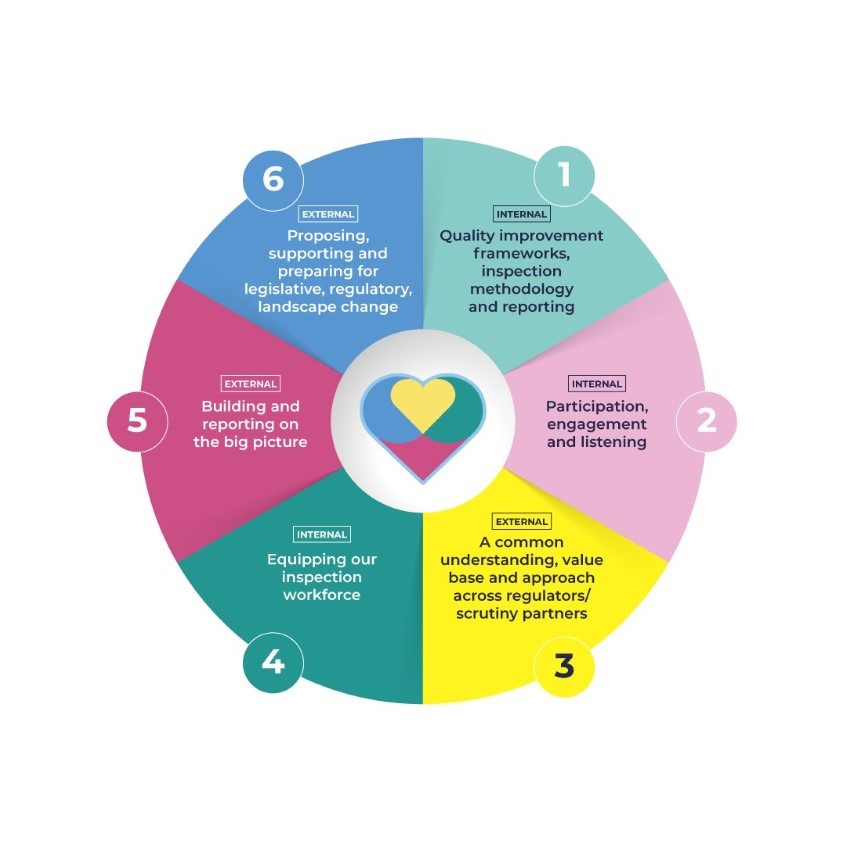 Image: Our Promise implementation model.
As part of our Promise commitment we have signed the national trauma leadership pledge and appointed four senior leaders as internal Trauma Champions. Here is what our Trauma Champions said.
Context
We are working to fulfil our commitments to Promise Change Programme ONE. This programme of work follows on from Plan 21-24, which mapped and sequenced the calls to action from the Independent Care Review's conclusions, identifying five priority actions.
We are a key partner in several areas of this detailed programme.
Our work with partners
The Promise has recommended comprehensive change to how care and support for children and young people is commissioned and provided. It also recommended improvements in how we regulate and inspect our current system.
It is one of the big drivers of change for us.
We are shaping our scrutiny practice across service level regulation, strategic inspection and quality improvement, to ensure that our focus is on hearing and acting on what children and their families tell us makes a positive difference to children's experience of care.
This work involves creating a common understanding, value base and approach across scrutiny and regulation in Scotland.
We are committed to working collaboratively with our partner external regulators and other scrutiny bodies to:
improve access to early preventative help for children on the edges of care
improve support for care experienced children and young people
lower barriers to employment caused by bureaucratic approaches to regulation
counter discrimination.
For more information on #KeepingthePromise at the Care Inspectorate please contact:
Aileen Nicol
Children's strategic inspector and Promise Lead
This email address is being protected from spambots. You need JavaScript enabled to view it.