---
We are developing a new online portal for care services and providers.
Some of the main features are the ability to view your service information, including registration conditions, download your registration certificate and make changes to your contact details, ensuring that we always have the most up to date information about your service.
You will also be able to apply to make changes to your registration, such as applying for a variation, applying to become inactive or even cancel your registration.
New email address for digital portal

As part of this development, the communication system that we will use to send emails from the portal will look different to the @careinspectorate.gov.scot emails that you may be used to.
We will use GOV.UK Notify, a UK government communication system, when we email our registered services and providers from this system.
This is already used when we email about complaints and registration applications. We will be using this for a greater range of communications with our registered services from Spring 2021.
What will be different?
You will notice a difference to the email address as emails will no longer be sent from an individual staff member's address. Instead, the sender's name will show as Care Inspectorate and the address will be This email address is being protected from spambots. You need JavaScript enabled to view it..
You will still be able to communicate with an individual staff member and they will know you have sent an email. However, these will be directed to the digital portal rather than to the staff member's mailbox. This will ensure that your information is held safely in one place and we can deal with your responses and queries.
What will the email look like?
The subject line of our emails will include a reference number which is associated with your service or case,
For example, RCN-000-CS2020000000.
We refer to this reference number as a 'case tag' and it used to make sure your replies are directed to the right place.

Our emails will include the Care Inspectorate logo in the top left corner and instructions to "reply" will be below the message.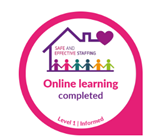 Any documents we share with you are uploaded to the GOV.UK document service to keep them secure.
You will find link(s) in the message, which will take you to GOV.UK, where you can download them.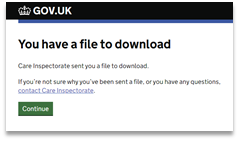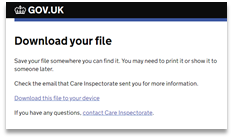 What will I need to do?
To ensure you receive our emails we recommend adding This email address is being protected from spambots. You need JavaScript enabled to view it.to your address book or safe senders list. This is the email address our emails will be sent from.
Do not send any emails to this as it doesn't accept incoming emails.
Replying to our emails
You can reply to any emails we send from the portal. The simplest way to send a response is to use the reply function in your email software, as it will automatically retain the Case Tag and populate the correct reply address.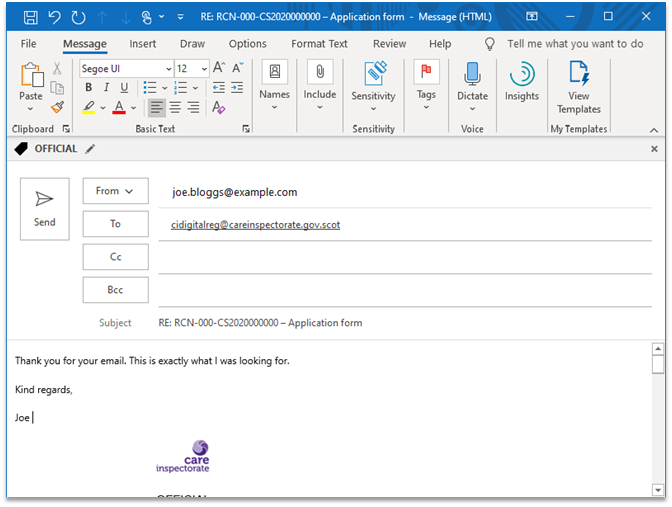 When replying to an email, please make sure the case tag is included in the subject line. This is the "Tag" we used in the original email we sent to you. This will automatically be included when you press reply, please do not remove it.
For example, RCN-000-CS2020000000.
However, if for any reason the case tag is removed, please use one of the following addresses.
For case tags that start with RCN you should send your reply to This email address is being protected from spambots. You need JavaScript enabled to view it.This email address is being protected from spambots. You need JavaScript enabled to view it..
For case tags that start with CCN you should send your replies to This email address is being protected from spambots. You need JavaScript enabled to view it..
It is important to make sure the correct case tag is in the subject line, as your email may be lost or delayed in reaching us otherwise.
How we can help
If you require any assistance with an email or want to check it is genuine please call our contact centre on 0345 600 9527. You can also email us at This email address is being protected from spambots. You need JavaScript enabled to view it..

Our emails will never ask you to provide personal bank details or reveal pin numbers or passwords.

If you are concerned you have received a potential phishing email, you can report it to the Suspicious Email Reporting Service (SERS) by forwarding it to This email address is being protected from spambots. You need JavaScript enabled to view it.. This service is provided by the National Cyber Security Centre.