The Care Inspectorate is today backing International Women's Day.
It follows an announcement from Scotland's First Minister that she will run the 'First Mentor' opportunity again this year.
First Mentor is a joint initiative between the Scottish Government and Young Scot to offer one young woman aged 18 to 23 the opportunity to be mentored by the First Minister for a year. Those shortlisted for the opportunity will have the chance to take up another mentorship through the Scottish Chambers of Commerce.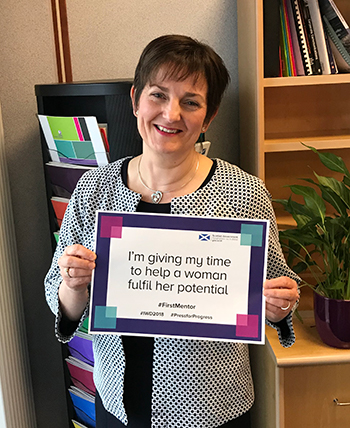 And Karen Reid, chief executive of the Care Inspectorate is delighted to be getting involved too.
Karen said: "The Care Inspectorate is delighted to be supporting International Women's Day, and I'm personally delighted to be taking up the challenge from Scotland's First Minister to help other's fulfil their potential.
"The First Minister has invited other woman in leadership positions to join her, by pledging to give some of their time to help a woman or girl to fulfil her potential. I am pleased to be part of this pledge in giving my time to this cause.
"This is a day to celebrate the contribution that women make to society and to our communities, socially, politically, economically and culturally.
"One of the things I recognised when I took up the post of Chief Executive was the need for greater mentoring opportunities for women who are interested in leadership.
"I have been passionate about giving my time to help others fulfil their potential.
"At present I am mentoring two women who are in different stages of their career. This has been rewarding for me as mentor as I watch the confidence and belief in the mentees grow. It is fulfilling to give something back to others.
"Through the mentor/mentee relationship not only have my mentees shared how they have used the knowledge, skills and sharing of experiences to strengthen their impact and resilience, I too have grown as a leader as I reflect on how collective leadership, by all, for all and together with all can make such a difference to our professional ability and make a difference to the lives of others."
For more information on International Women's Day log on to:
https://www.internationalwomensday.com/
For more on the First Mentor initiative log on to:
https://www.youngscot.net/first-mentor-opportunity-launched/