Our role in children and young people's services

It is our job to make sure that every child and young person experiencing care in Scotland gets the best quality of care that meets their needs and choices and protects their rights. This is whether they live at home with their families, live in a children's home, are fostered or adopted, stay in secure or school care accommodation or use respite services. We also inspect some services that provide care for families, such as women's refuges, and housing support services that cater for young people.
Our strategic team assesses how well professionals from different disciplines and agencies work together. This is to make sure that children and young people who need care and protection are kept safe and their needs met.
We assess how well services and partnerships self-evaluate and learn from adverse events to improve children's experiences and outcomes.
The Health and Social Care Standards

Under the Health and Social Care Standards, everyone is entitled to high-quality care and support tailored towards their needs and choices. That is why the Standards focus on the experience of people using services and supporting their outcomes.
The Standards apply to the NHS, as well as services registered with the Care Inspectorate and Healthcare Improvement Scotland. We use the Health and Social Care Standards to make sure services respect and meet people's rights, needs and choices.
Download your copy of the Standards here.
Equality and diversity
We believe that people in Scotland should experience a better quality of life as a result of accessible, excellent services that are designed and delivered to reflect their individual needs and promote their rights.
Our work focuses on people's rights, choices and individual outcomes, the things that matter most to people. We continue to put equality and diversity at the heart of all we do. That's why we made equality and diversity a key principle of our equality, diversity and inclusion strategy.
Our young inspection volunteers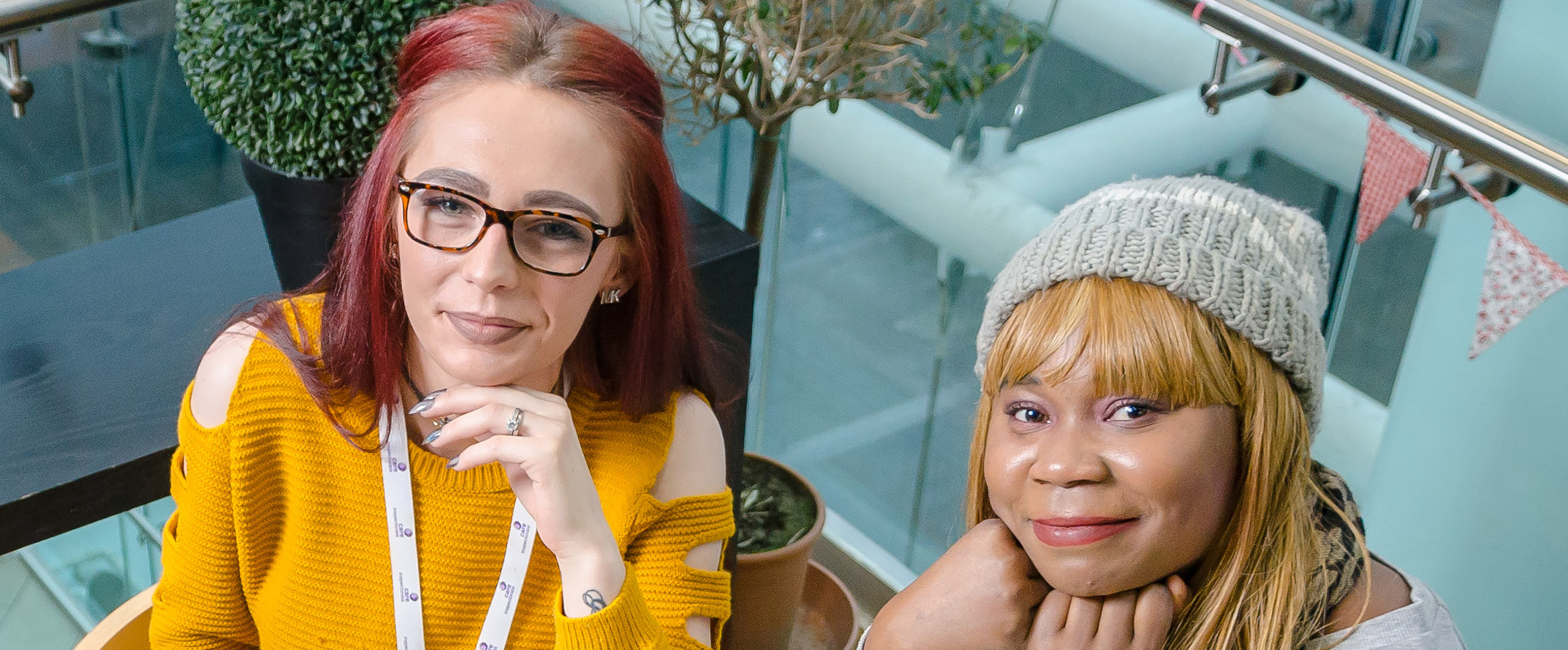 We work with 15 young inspection volunteers (aged between 18-26 years old) who visit children and young people's services with us when we inspect.
Our young inspection volunteers talk with children and young people who use services and listen to their views. They meet managers to find out how well they involve children and young people to develop and improve services and they hear how well partnerships are fulfilling their responsibilities and duties as corporate parents.
If you would like to find out more about becoming a young inspection volunteer click here.
Click here to see some of the videos they have done for our joint inspections.
Information about inspections for young people
Following some feedback we had from young people, we have created posters that explain what inspections are. You can download our poster for residential child care, or our poster for foster care and display this in your service to help young people understand what inspections are and how they can get involved.
Access to interpreters/our translations poster
To better support how we engage with children and young people who have English as a second or foreign language, we have developed this poster for services to display. It's designed to let young people know that we are happy to book an interpreter to chat with them.
Text to complain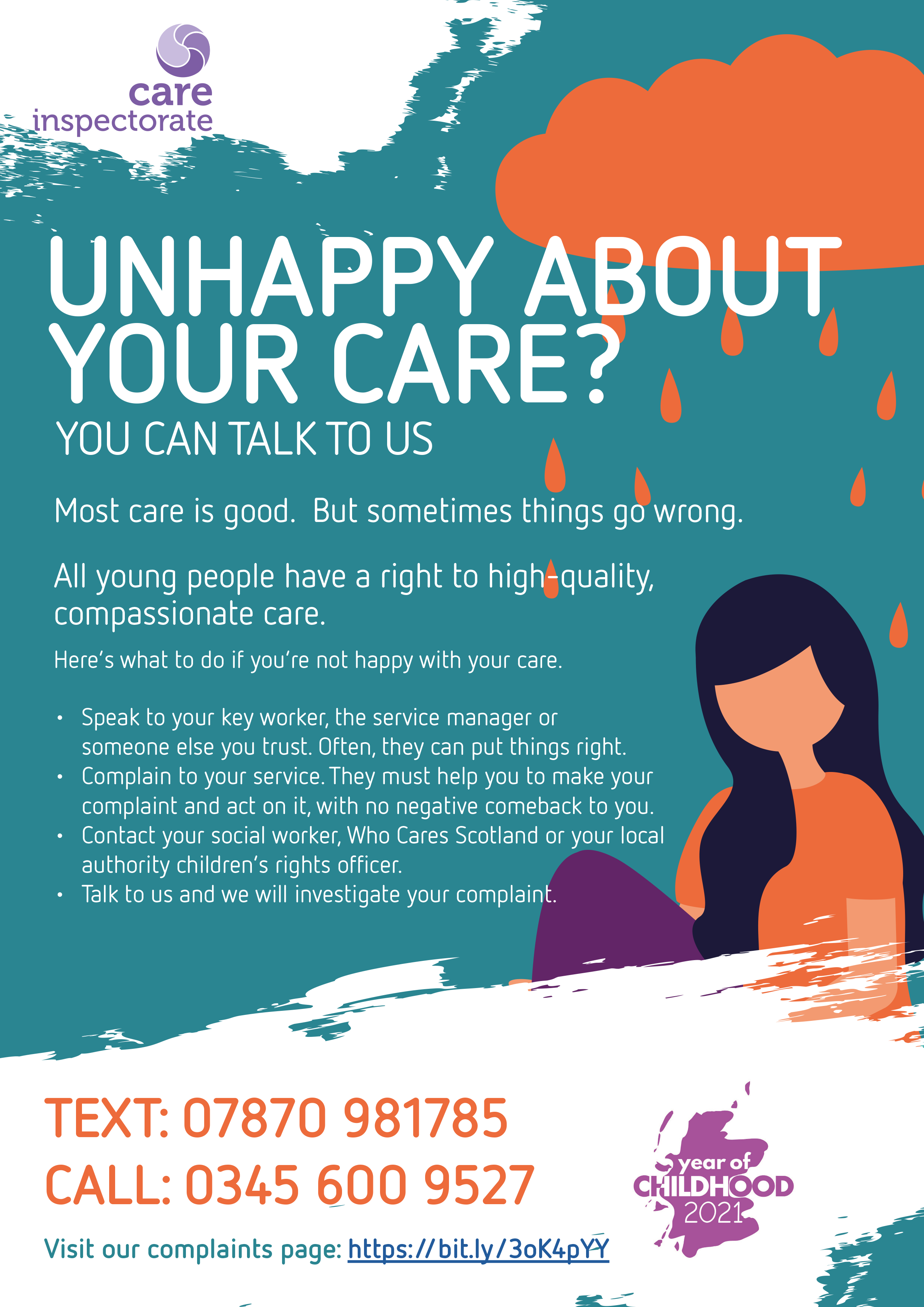 Complaints research from 2019 showed that less than one percent of the 1,400 children and young people in residential care settings raised concerns to us about their care.
To handle complaints well, services need to have a healthy listening culture where people's concerns are taken seriously and acted upon quickly.
Children and young people can text us directly on 07870 981 785 if they are not happy about their care. Our text to complain poster can be downloaded here. You can also complain by filling in our complaints form online, calling us on 0345 600 9527 or emailing us at concerns@careinspectorate.gov.scot
Our quality frameworks
Our quality frameworks support care services to self-evaluate. Our inspectors also use these when they inspect and look at the quality of care provided by services. You can read our frameworks here.
Corporate parenting
As a corporate parent, we carry out many of the roles any parent should.
We work with other corporate parents to promote the wellbeing of all children and young people and keep them safe from harm. We work hard to enable children and young people to have as much of a say as possible.
Read our corporate parenting plan 2021-23.
Stand Up For Siblings
We are a proud member of the Stand Up For Siblings partnership, a Scotland wide initiative to improve and change legislation, policy and practice. It's about making sure children and young people live with their brothers and sisters, where it is appropriate to do so, and sustain strong and positive lifelong relationships with them. Read the Staying together and connected: getting it right for sisters and brothers: national practice guidance
Our young inspection volunteers made a big contribution to this award-winning work and made a film about promoting and supporting sibling relationships for children and young people who experience care. Watch the film here.
The Promise
We continue to work to deliver our organisation's contribution to keeping The Promise for children and young people. The Promise is about providing more intensive, preventative support to families so they can stay together where it is safe to do so.
Scottish Child Abuse Inquiry
We work with the Scottish Child Abuse Inquiry to investigate the abuse of children in care in Scotland.
Secure Care Pathway and Standards Scotland
The Secure Care Pathway and Standards Scotland were created to improve the experiences of children and young people who are in, or on the edges of, secure care, leading to better and brighter outcomes.
Continuing care
We have been supporting the Staying Put agenda since 2013 and our role as corporate parents under the Children and Young people (Scotland) Act 2014 includes supporting young people moving from care to adulthood and independence.
Read our Continuing Care and the Welfare Assessment: Practice Note.
Early learning and childcare improvement programme

The Scottish Government has funded the early learning and childcare (ELC) improvement programme to support ELC services who offer funded places to improve so that they meet the quality criteria of the National Standard.
We work collaboratively with services and run learning events, provide individual improvement support and share good practice resources. We also work with local authorities and support them to improve early learning and childcare settings within their authority area.
For more information about this programme visit The Hub.